02 Feb

Cortland Biomedical Appoints Eric Brown to General Manager

Cortland, NY, February 2, 2022 – Cortland Biomedical, a full-service medical textiles product development partner that provides access to a full spectrum of global engineering, design and manufacturing capabilities, recently announced that Eric Brown has been promoted to general manager.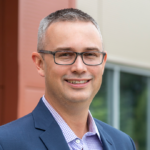 Eric has more than 17 years of experience in the areas of manufacturing management, lean manufacturing, materials management, supply chain development, MRP implementation, customer quoting, operations management and automation/controls. Prior to the promotion, Eric served as Cortland's director of operations, where he was instrumental in driving expansion of the biomedical business and led the consolidation into the company's new, state-of-the-art facility. Eric holds a bachelor's degree in electrical engineering from Pennsylvania State University and an MBA in technology management from University of Phoenix.
"I take great pride in being part of a company that develops products that will directly improve human health, and even save lives," said Brown. "I'm excited to continue to grow with Cortland Biomedical. My new role will give me an opportunity to understand more about our customer base and their needs when it comes to new product development, as well as to foster a positive and inclusive corporate culture."
"Eric has done a phenomenal job helping to grow our engineering team and launch our state-of-the-art Lime Hollow facility," said John Greco, the vice president of sales. "The pride that he takes in our company and the Cortland community is apparent, and I look forward to seeing what he'll accomplish next as general manager."
Learn more about Eric's thoughts on trends in the medical device industry and what sets Cortland Biomedical apart as a strategic partner for innovative textile structures here.
The company is looking to fill additional positions across engineering, manufacturing and operations.
About Cortland Biomedical
Cortland Biomedical custom designs and manufactures high-performance biomedical textile structures leveraging years of experience in medical textile engineering methods including knitting, braiding and weaving. Its thoughtful design concepts challenge the status quo. Cortland Biomedical's unique combination of advanced equipment and technology, a seasoned medical textile-specific engineering team, and first-rate R&D capabilities allows it to tackle customers' complex challenges with the innovation and agility expected in the medical device industry.
Learn more at cortlandbiomedical.com.
PR Contact
Jordan Bouclin
SVM Public Relations
Jordan.bouclin@svmpr.com
(401)490-9700