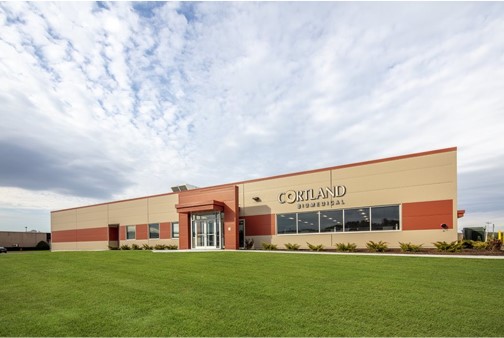 09 Jun

Cortland Biomedical Completes Transition to Upgraded Facility

Cortland Biomedical recently completed the move to an enhanced, 35,000 sq. ft. manufacturing facility strategically designed for purpose with input from our medical device partners and our textile engineers. Construction on the state-of-the-art facility began in 2018, and the team has been conducting biomedical textile engineering and manufacturing operations between both facilities while transitioning the medical component commercial manufacturing entirely to the new facility. This transition included significant contribution from the Cortland Biomedical team as well as our customers, in order to conduct and approve all appropriate validations.


Cortland Biomedical, which is trusted by leading medical device OEMs to design and engineer braided, woven and knitted biomedical textiles fit-for-purpose, is committed to overcoming the status quo in medical textile development. The company's consideration of both major and lesser regarded factors that can impact the success of a collaboration is apparent in the design and attention to detail of the new facility. Cortland delivers on concept, feasibility, and product development supported by an innovative, cross-functional team with an understanding of design & development, textile engineering, and agile prototyping. Validation processes and regulatory submissions are better supported and de-risked for its OEM customers because Cortland has best-in-class control of their design, manufacturing, and supply chain. Effectively managing of all these factors can help prevent avoidable setbacks on the path to approval, enabling OEM's innovative medical devices to come to market without unexpected and costly delays.


"Every detail of the new facility was conceived with our customers' needs in mind and will allow us to best facilitate their ongoing projects," said Eric Brown, Director of Operations, Cortland Biomedical. "We want to thank our customers for their continued support and enthusiasm during the transition – we're thrilled that it's complete and we're confident they'll be pleased with the outcome."


Cortland's ISO 13485:2016 -certified facility on Lime Hollow Rd. in Cortland, NY has 20,000 sq.ft. of cleanroom manufacturing space, with Class 7 and Class 8 cleanrooms third party-certified to ISO14644. It also features a qualified ASTM Type 1-B water system with sustained monitoring.