02 Feb

Meet Cortland Biomedical's General Manager, Eric Brown

Eric shares his thoughts on trends in the medical device industry and what sets Cortland Biomedical apart as a strategic partner for innovative textile structures.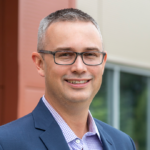 You were recently promoted to general manager. What excites you most about working at Cortland Biomedical?
I initially started working with Cortland Biomedical in April of 2018 as a project manager. What attracted me to the company then, and still excites me now, is twofold. First off, working on products that will directly impact – and often save – human lives is really inspiring. Coming to work knowing the medical devices we're helping to create will improve peoples' quality of life is a great feeling. Secondly, I'm thrilled to be a part of the Cortland community. I always knew that I wanted to raise my family in upstate New York, so it's been terrific to build such a fulfilling career right here in the area that we're so personally invested in.
Having the opportunity to oversee the launch of our state-of-the-art Lime Hollow facility and consolidate our sites here has been a big highlight of my time at Cortland so far. We've grown our team quite a bit, creating more jobs in the community and enabling us to introduce more products – which is a win all around.
What are your top priorities in your new role as general manager?
Since day one, I've been eager to understand more about our customer base and their needs when it comes to new product development. The general manager position will give me the chance to engage more on customer projects, as well as to examine how we're staffing to ensure every project team has the best skillset collectively for the job. Continuing to build a positive and inclusive company culture is also a top priority.
How do you expect the biomedical textile industry to evolve over next few years and what factors are contributing to this?
It's important we keep our finger on the pulse of the MedTech industry. We're seeing a lot of concentration around new startups in the medical device space, and I expect this to continue. These companies tend to be smaller and nimbler, which is conducive for bringing new technologies to market in areas that are ripe for innovation. Because Cortland Biomedical is also a very agile company, we're finding opportunities for strategic partnerships with these companies where we can work together to develop new and lower profile products.
What are the main things that bring customers to Cortland Biomedical?
This comes back to our agility. We're willing and able to run rapid development projects and we have a strong equipment base for braiding, weaving, knitting and post-processing. We're able to create textiles for everything from long-term implants that will go in the body, to components for instruments and incorporation of textiles in minimally invasive devices– and we're there for our customers during every step of the design and development.
What do you feel sets Cortland apart from others in the market?  
With the new facility, we made a significant investment in equipment for braiding, weaving, knitting and post-processing for finished products. But our people are a big part of what makes Cortland Biomedical special, and we've prioritized growing our organization with the right people for the roles. Over the last year, we've really focused on building our process engineering team, which has allowed us to keep up with the new product opportunities that we're encountering.
What milestones do you hope Cortland will achieve in 2022?
Our main goal is always to deliver on our commitment to our customers. For 2022, we're focused on building robust engagement plans for continuous improvement, quality management and operational efficiencies to support long-term business. We also want to keep increasing positive engagement that fosters diversity, equity, and inclusion. Internally, we want everyone on our team to have a clear vision of their growth opportunities and how to achieve what they want from their career path.