25 Apr

Kenneth DeGraff Promoted to Director of Operations at Cortland Biomedical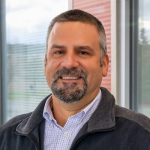 Cortland, NY, April 25, 2023 – Cortland Biomedical, a full-service medical textiles product development partner that provides access to a full-spectrum of global engineering, design and manufacturing capabilities, is pleased to announce the promotion of Kenneth (Ken) DeGraff to the position of director of operations. Ken most recently held the position of senior manufacturing support manager for Cortland Biomedical.
In his new role, Ken will add direct labor management to his duties while maintaining his previous duties in manufacturing engineering, facility management, and technical support of operations. He will be responsible for overseeing day-to-day operations, ensuring that the organization runs smoothly and efficiently. Reporting to Ken in his new role will be Dawn Buckingham, production supervisor; Dean Johnson, maintenance supervisor; Mansoor Saquib, weaving and knitting Supervisor; and Chris Collins, senior manufacturing engineer.
Ken came to Cortland Biomedical in 2021 with 31 years of experience in manufacturing, specializing in design, manufacturing engineering, production management, continuous improvement, and quality in the aerospace and automotive industries.
"As a Lean Six Sigma Black Belt certified through BMGI, Ken is a strong leader with excellent communication skills, an experienced problem solver in customer quality issues, and extremely organized and driven," said Eric Brown, general manager, Cortland Biomedical. "We are confident that his expertise will serve him well in his new role as director of operations, and we look forward to seeing his continued contributions to the success of Cortland Biomedical."
Ken holds a Bachelor of Science in Aeronautical Engineering from Embry Riddle Aeronautical University in Florida and an MBA from Syracuse University.
About Cortland Biomedical
Cortland Biomedical custom designs and manufactures high-performance biomedical textile structures leveraging years of experience in medical textile engineering methods including knitting, braiding and weaving. Its thoughtful design concepts challenge the status quo. Cortland Biomedical's unique combination of advanced equipment and technology, a seasoned medical textile-specific engineering team, and first-rate R&D capabilities allows it to tackle customers' complex challenges with the innovation and agility expected in the medical device industry.
Learn more at cortlandbiomedical.com.
PR Contact
Jordan Bouclin
SVM Public Relations
Jordan.bouclin@svmpr.com
(401)490-9700