31 May

Incorporating Biomedical Textiles in Foot and Ankle Repair Applications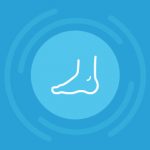 According to Reportlinker.com's "Global Foot & Ankle Devices Market, By Product Type, By Procedure, By Application, By End User, By Region, Competition Forecast & Opportunities, 2026", the global foot & ankle devices market was US4170.33 million in 2020 and is expected to grow at a CAGR of 6.00% to reach USD5781.28 million by 2026. This is largely attributed to a growing geriatric population prone to diseases such as osteoporosis, arthritis, and others. Rising incidences of road accidents, spinal injuries and accidents during sports activities are further contributors to market growth. Trauma from fractures or direct injury to the bone makes up a significant portion of this market. Like in other areas of sports medicine, biomedical textiles are proving to be a useful component in surgical devices related to foot and ankle repair – where successful repairs often mean the difference between fully-restored mobility/functionality or long-term disability.
Braided and woven textiles – which can be made of nonresorbable or resorbable polymers — may be an ideal choice for foot and ankle applications that involve ligament and tendon repair, promotion of tissue growth, and/or bone stabilization. Textile properties can be highly tailored for purpose, including flexibility, tensile strength, and biocompatibility. As a result, they may enable less invasive surgical procedures. Braided textiles have a low profile and high tensile strength, allowing a surgeon to secure soft and bony tissue. Recent technology advancements allow for greater customization of braided textile properties (such as variable density) to facilitate a simpler and more durable surgical repair. Woven biomedical textile structures have also become increasingly sought after as foundations for implants and anchor points for attaching soft tissue due to their strength, lack of compliance, and low permeability.
One specific area where textiles can be very beneficial is for syndesmosis repair (sometimes referred to as "high ankle sprain"), which is usually caused by twisting or rotational injuries. This requires that the tibia and fibula are stabilized together. Textiles can be incorporated in an approach that provides an alternative to using screws. This is often a less painful process; eliminates some of the risks such as screw breakage and the potential complications of a second surgery to remove the hardware; and allows the patient to resume a normal motion and a return to standard activities sooner. Textiles can also support other surgical applications in the foot and ankle that require stabilization, such as lateral and medial stabilization.
Furthermore, textiles can be useful in reconstructions of the mid-foot, as well as hallux valgus reconstruction, a realignment of the big toe that is particularly common amongst women who frequently wear high heels. The more severe the injury or deformity, the more complex the surgery will be. But less invasive approaches may allow the patient to regain mobility sooner, while still achieving a permanent repair.
Textiles are also a viable option in surgical interventions for deltoid ligament ankle repair. Deltoid ligament injuries are common amongst athletes, as they typically stem from hyperextension. There are two main types of ankle ligament surgeries that are often considered by the physician: an anatomic reconstruction using the patient's own tissue or cadaver tissue and tightening the band that keeps the ankle aligned; or a peroneal substitution ligament reconstruction which means replacing the ligament with another piece of tendon taken from the patient's ankle. Textiles can be incorporated for keeping the ankle aligned and promoting tissue growth. Similarly, textiles can be useful in metatarsal ligament and Achilles tendon repair. They can also be incorporated into digital tendon transfers to manage digital and metatarsophalangeal joint (MTPJ) deformities, which are typically part of a combination of necessary procedures.
The specific structure of textiles are often  suture assemblies and tapes, which can be vital to successful foot and ankle repair procedures. Synthetic sutures made from a wide variety of polymers are more consistent and predicable than natural fiber, decreasing the chance of an adverse tissue reaction. Textiles are flexible, non-abrasive, biocompatible and may even be engineered with anti-bacterial properties. Woven tapes may offer advantages over braided constructions due to their low permeability and lack of stretch in either direction. Like braids, they can be made from a variety of polymers that are more consistent and predicable than natural fiber, decreasing the chance of an adverse tissue reaction.
Cortland Biomedical has the equipment and expertise trusted by leading medical device OEMs to enable greater innovation in foot and ankle repair by designing and engineering braided and woven biomedical textiles fit-for-purpose.