06 Sep

Cortland Biomedical Welcomes José Nuñez as Engineering Manager

Recent Engineering Appointments Mark Significant Step Forward as Company Continues to Attract Top-tier Talent in Pursuit of Innovation and Excellence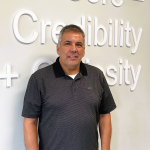 Cortland, NY, September 6, 2023 – Cortland Biomedical, a full-service medical textiles product development partner that provides access to a full-spectrum of global engineering, design and manufacturing capabilities,  is pleased to announce the addition of José Nuñez to its dynamic team as engineering manager. José brings with him an impressive track record of forty years in the textile industry, making him a valuable asset to Cortland Biomedical's New Product Development (NPD) team.
José's extensive experience and expertise will be pivotal in driving Cortland Biomedical's growth strategy in weaving and knitting segments. He will lead a specialized team dedicated to textile product development for medical device components. José's vision and leadership will be instrumental in advancing Cortland Biomedical's position as a trailblazer in the medical textile industry.
"We are thrilled to welcome José Nuñez to the Cortland Biomedical family," said Eric Brown, general manager, Cortland Biomedical. "José's wealth of knowledge and his impressive history of innovation within the textile industry align perfectly with our commitment to pushing boundaries in medical textile solutions. We are confident that his leadership will steer our New Product Development team toward new horizons of success."
José holds a bachelor's degree in Textile Engineering from the prestigious Philadelphia College of Textiles and Sciences at Philadelphia University. His extensive background includes various engineering and management roles in the textile industry. Particularly noteworthy is his experience in the medical textile sector, where he has been instrumental in knitting and weaving development projects for renowned organizations such as Boston Scientific, Acorn, Spineology, and Bard.
With this strategic move, José will oversee a newly-formed team including process engineers and technical specialists. José's relocation to Central New York from North Carolina marks a significant step forward for Cortland Biomedical as the company continues to attract top-tier talent in pursuit of innovation and excellence. The company also recently announced the addition of Jeff Cline as senior quality assurance engineer. Jeff brings over 20 years of experience in regulated manufacturing, as well as expertise in personal care, OTC, and medical device products. His proactive support in Quality Management, new product development, and more will be invaluable. He holds a Bachelor of Science in Microbiology from the University of Pittsburgh.
About Cortland Biomedical
Cortland Biomedical custom designs and manufactures high-performance biomedical textile structures leveraging years of experience in medical textile engineering methods including knitting, braiding and weaving. Its thoughtful design concepts challenge the status quo. Cortland Biomedical's unique combination of advanced equipment and technology, a seasoned medical textile-specific engineering team, and first-rate R&D capabilities allows it to tackle customers' complex challenges with the innovation and agility expected in the medical device industry.
Learn more at cortlandbiomedical.com.
PR Contact
Jordan Bouclin
SVM Public Relations
Jordan.bouclin@svmpr.com
(401)490-9700