28 Sep

A Team Effort to Prototype and Manufacture Surgical Masks Amid COVID-19 PPE Shortage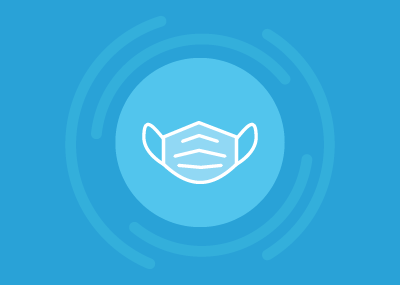 As hospitals and health care facilities across the country and the world felt the catastrophic strain caused by the global COVID-19 pandemic, the team at Cortland Biomedical wondered how we could help. We were hearing about the mass shortages of personal protective equipment (PPE) for health care providers on the front lines caring for infected patients. Because of the significant number of cases in the NYC area, we knew the smaller regional hospitals in our community would likely have a hard time replenishing their stocks due to redirects going to the affected areas in and around the city. We also wanted to make sure we were doing everything possible to help keep our own employees healthy and safe.

At this point, there was no fabric available due to the widespread demand for PPE. We began considering how Cortland Biomedical's weaving technology could be used to make an appropriate fabric for surgical masks. We make a custom thread for another product that has been successful, so we took that idea and mimicked it for this project. We knew it was compatible with our sewing machine, and with the overall product we were trying to make. Plus, it allowed for full traceability — every single mask component (the sewing thread, the woven fabric and the tie braid) could be made in-house in our own clean rooms.

Our engineering team studied mask-making videos and adapted the approach to fit Cortland Biomedical's technology. Since our team was temporarily working from home in adherence with NY shutdown orders, our first prototype used common household items like paper towels to mimic the desired dimensions.

Even while off-site, our engineers were communicating regularly with knowledgeable technical specialists who were still on-site, as Cortland Biomedical was deemed an essential business. Everyone was eager to contribute to helping health care professionals stay safe during this unprecedented time. For effective masks, we needed something very dense with extremely small pores and specific dimensions. The on-site team started weaving the fabric and braiding the sewing thread, as well as the straps (tie braid). This way, the engineers would only need to make a few tweaks when they were able to get back in the facility.

We were able to experiment with weave patterns, dimensions, and different machine parameters for laser cutting and heat pressing. We also investigated possible filtration media to be incorporated as a middle layer and/or replaced in order to extend the service life of the mask. Our team realized we could laser-cut to successfully mimic the small notches needed. We also explored options for the design of the tie braid, resulting in our first true prototype. We took pictures of anyone available in the building wearing them to see how they fit and if there were any gaps so our designs could be perfected.

Throughout this entire process, time and resources had to be balanced so we could also continue to service our customers. With a successful prototype complete, time studies for the multi-step process were conducted to establish an achievable goal. Ultimately, we decided to start with a donation of 50 re-washable, multi-use masks to Guthrie Cortland Medical Center here in Cortland, NY to help meet the immediate need of local health care providers. After that, we created 160 masks for all employees at Cortland Company, including both the industrial and biomedical divisions, so they could safely comply with Governor Cuomo's revised executive order requiring all residents to wear face masks or coverings in public. We then created 80 additional masks for local service professionals (other health care workers, fire fighters, police officers).

"At the end of the day, it's nice knowing that everything we make at Cortland Biomedical will help improve someone's life down the road. When this opportunity came up, we were all eager to help right away, especially being in New York. It wasn't the simplest thing to do, but we're grateful for the hard work of our engineers, technical specialists and sewing teams. We also appreciate the overwhelming support from the management team. It was truly a humbling team effort." Michelle Lishner, engineer, Cortland Biomedical.